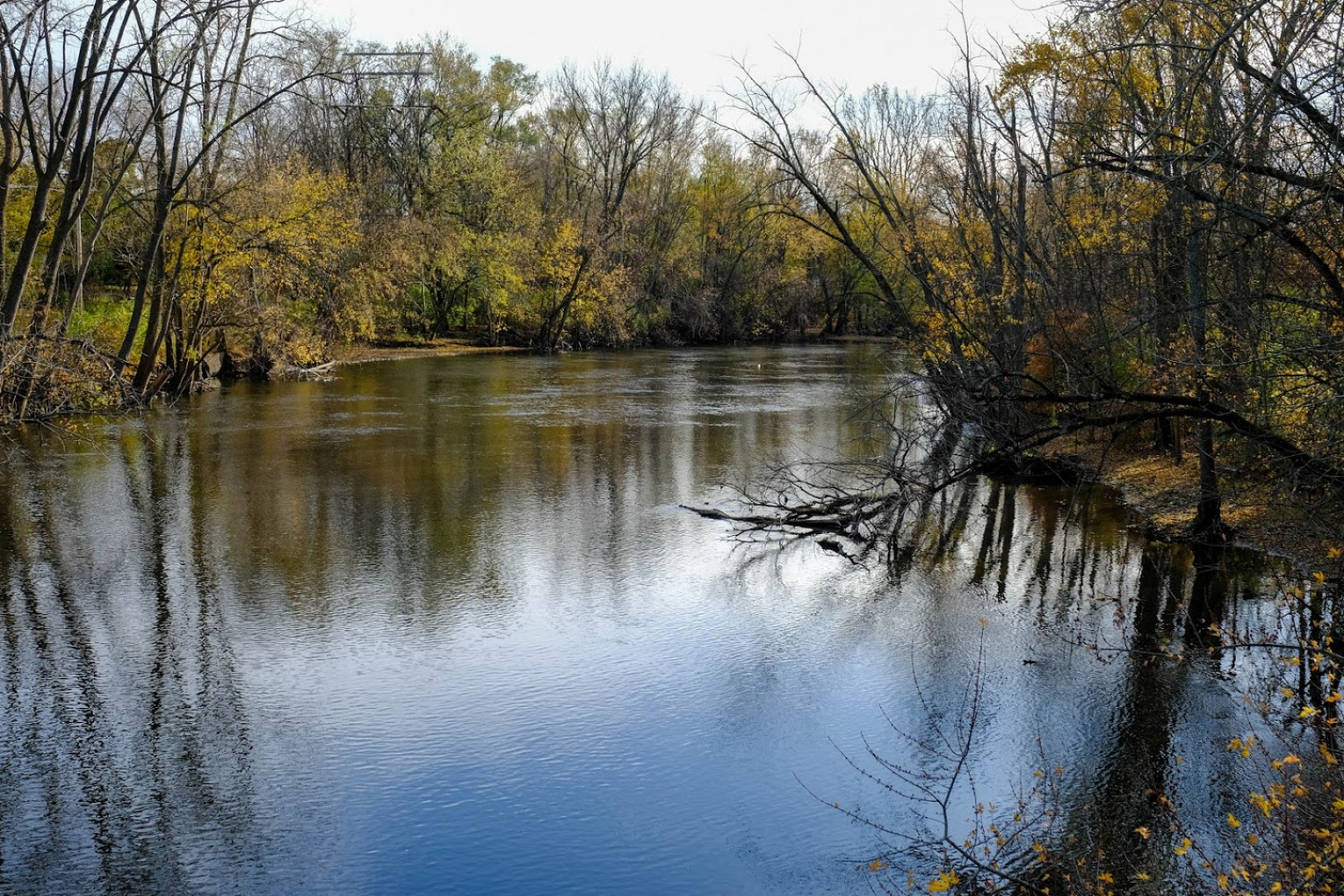 The Kalamazoo Stormwater Working Group (KSWG) is a collaborative effort of outreach and education for our interconnected Municipal Separate Storm Sewer Systems (or MS4s) in the Kalamazoo County area. Rain falls and snow melts across hard and impervious surfaces that do not allow water to soak into the ground. The water flows to storm sewers or catch basins which direct it to a natural surface water body such as a wetland, river, pond or lake. Stormwater runoff carries salts, grass clippings, sediment, fertilizer, oils, pet waste, and other material left on driveways and sidewalks into the catch basins, and unfortunately, they eventually drain to our natural water bodies. KSWG partners work together to protect against harmful discharges to the Kalamazoo River and its tributaries
El Grupo de trabajo de aguas pluviales de Kalamazoo (KSWG) es un esfuerzo colaborativo de divulgación y educación para nuestros sistemas de alcantarillado pluvial separados municipales interconectados (o MS4) en el área del condado de Kalamazoo. La lluvia cae y la
nieve se derrite sobre superficies duras e impermeables que no permiten que el agua penetre en el suelo. El agua fluye hacia las desagües pluviales que la dirigen a un cuerpo de agua superficial natural, como un humedal, un río, un estanque o un lago. La escorrentía de aguas pluviales transporta sales, recortes de césped, sedimentos, fertilizantes, aceites, desechos de mascotas y otros materiales que quedan en los caminos de entrada y las aceras hacia los desagües pluviales y, desafortunadamente, eventualmente se drena en nuestros cuerpos de agua natural. Los socios de KSWG trabajan juntos para proteger el río Kalamazoo y sus afluentes de descargas dañinas
page2
Our Waterbodies are Connected
In Michigan, we have the privilege of having 1/5 of the world's freshwater supply right in our backyard. Here in Southwest Michigan, the Kalamazoo River Watershed, and the St. Joseph River Watershed eventually flow into Lake Michigan, which makes us part of the Great Lakes Watershed.

It is important to remember, our actions along local streams and rivers have lasting impacts on our Great Lakes. These actions can not only affect the beauty and recreation of the Great Lakes, but also the water quality. About forty-million people depend on the Great Lakes as their source of drinking water. Let's consider several common pollutants and why they are threats to our waterways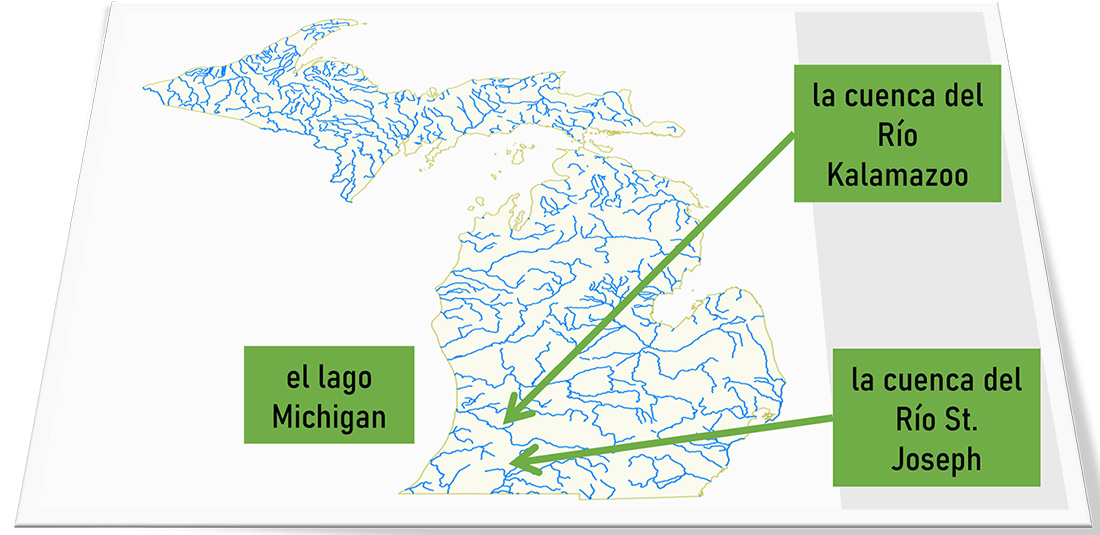 page 3
Nuestras masas de agua están conectadas
En Michigan, tenemos el privilegio de tener 1/5 del suministro mundial de agua fresca justo al nuestro alrededor. Aquí en el suroeste de Michigan, la cuenca del Río Kalamazoo y la cuenca del Río St. Joseph desembocan en el lago Michigan, y eso nos hace parte de la cuenca de los Grandes Lagos.

Es importante recordar que nuestras acciones a lo largo de los arroyos y ríos locales tienen impactos duraderos en nuestros Grandes Lagos. Estas acciones no solo pueden afectar la belleza y la recreación de los Grandes Lagos, sino también la calidad del agua. Alrededor de cuarenta millones de personas dependen de los Grandes Lagos como fuente de agua potable. Consideremos varios contaminantes comunes y por qué son amenazas para nuestras vías fluviales.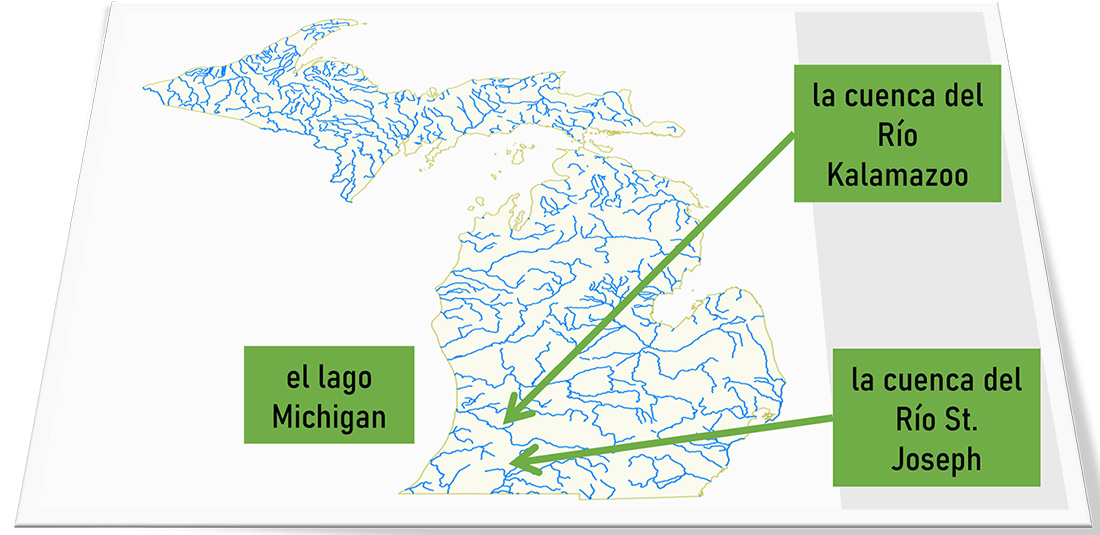 page4
Major Threats to our Waterbodies
Storm drains flow into the storm sewer system and unfortunately pollutants can, too.

The storm sewer system is built to convey stormwater from streets and parking lots into streams, lakes, or rivers, often with out any treatment. Which means if anything other than stormwater flows into these drains it can directly affect the health of our waterbodies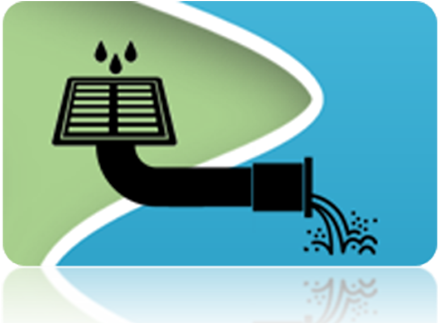 Some of the worst pollutants entering our waterbodies are entirely preventable. These threats are not usually caused by a single point source. They are commonly an accumulation over time and are from thousands of different land uses and property owners.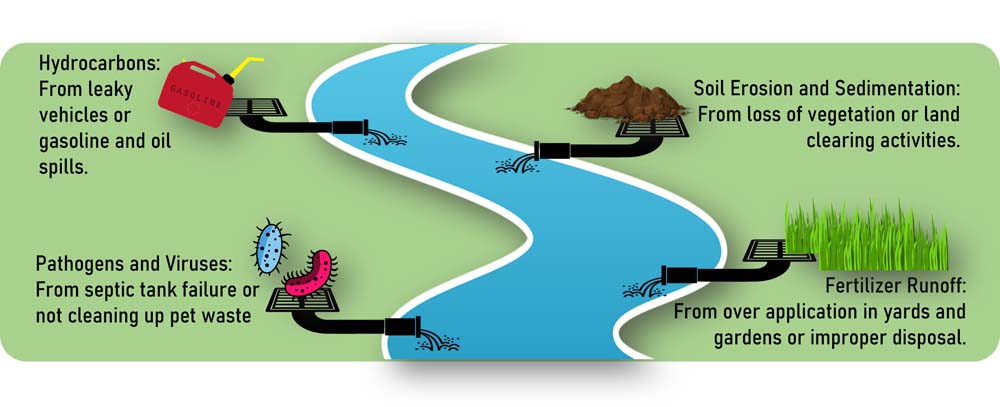 page5
Principales amenazas a nuestras masas de agua
Los desagües pluviales fluyen hacia el sistema de alcantarillado pluvial y, desafortunadamente, los contaminantes también pue den hacerlo.

El sistema de alcantarillado pluvial está construido para transportar las aguas pluviales de las calles y estacionamientos a arroyos, lagos o ríos, a veces sinningún tratamiento. Lo que significa que si algo que no sean aguas pluviales fluye hacia estos desagües, puede afectar directamente la salud de nuestras masas de agua.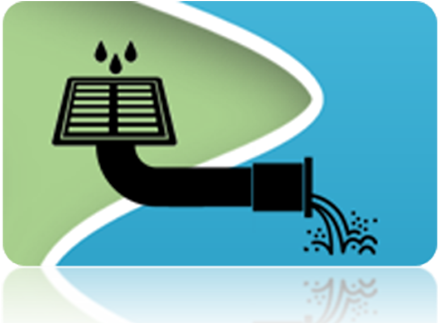 Algunos de los peores contaminantes que ingresan a nuestras masas de agua son completamente prevenibles. Estas amenazas no son causadas por un solo origen. Son una acumulación a lo largo del tiempo y provienen de miles de diferentes usos de la tierra y orígenes.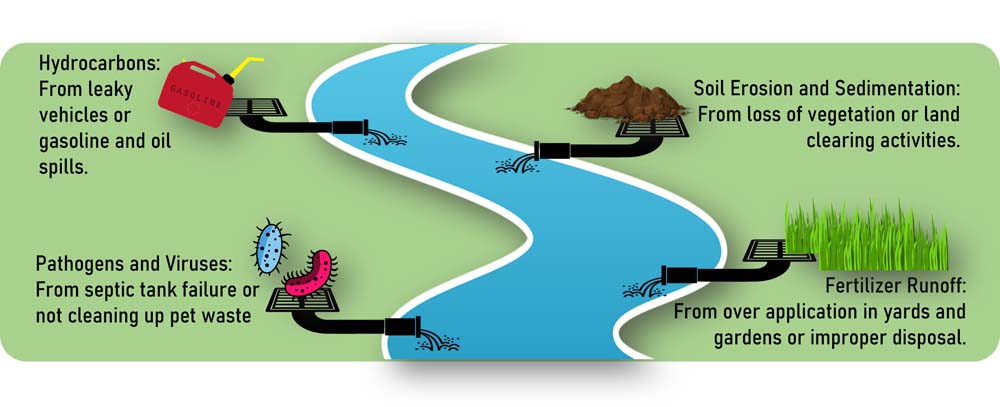 page6
Potential Impacts of Pollutants
As stormwater flows over land, it may come in contact with garbage, pet wastes, and other sources of bacteria. That bacteria then flows with the stormwater into surface water bodies. Bacteria in surface water bodies can pose human health risks, make recreational areas less enjoyable, and harm aquatic life.
Stormwater runoff can also carry nutrients and organic matter into surface water bodies. These nutrients can come from excess landscaping fertilizer and car washing detergents. When nutrients reach surface water bodies, they encourage algae growth. Examples of organic matter are grass clippings and leaves. As organic matter breaks down in the water, oxygen is used up. Both excess nutrients and organic matter can lead to low levels of oxygen in surface water bodies. Fish need this oxygen to thrive.
A pollutant sometimes overlooked is sediment. Stormwater can come into contact with sediment in construction areas or anywhere loose soil is not covered by vegetation. When sediment is carried into surface water bodies, the water becomes cloudy or turbid. This sediment accumulates at the bottom of rivers, lakes, streams, etc., and negatively impacts the aquatic habitat.
Hydrocarbons are also, unfortunately, a common stormwater pollutant. There are many different types of hydrocarbons, but some examples are oil, vehicle fluids, and gasoline. If any of these examples are spilled on pavement, the next time it rains they can be carried with stormwater into surface water bodies. Hydrocarbons are a dangerous stormwater pollutant because they are toxic to aquatic life
page7
Impactos potenciales de los contaminantes
A medida que las aguas pluviales fluyen sobre la tierra, pueden entrar en contacto con basura, desechos de mascotas y otras fuentes de bacterias. Esa bacteria luego fluye con las aguas pluviales hacia las masas de agua superficiales. Las bacterias en las aguas superficiales pueden plantear riesgos para la salud humana, hacer que las áreas recreativas sean menos agradables y dañar la vida acuática.
La escorrentía de aguas pluviales también puede transportar nutrientes y materia orgánica al agua superficial. Estos nutrientes pueden provenir del exceso de fertilizantes de jardinería y detergentes para el lavado de automóviles. Cuando los nutrientes llegan a las aguas superficiales, fomentan el crecimiento de algas. Ejemplos de materia orgánica son los recortes de hierba y las hojas. Cuando la materia orgánica se descompone en el agua, el oxígeno se agota. Tanto el exceso de nutrientes como la materia orgánica pueden causar bajos niveles de oxígeno en las aguas superficiales. Los peces necesitan este oxígeno para prosperar
Un contaminante que a veces es ignorado es el sedimento. Las aguas pluviales pueden entrar en contacto con sedimentos en áreas de construcción o en cualquier lugar donde el suelo suelto no esté cubierto por la vegetación. Cuando el sedimento es transportado a cuerpos de agua superficiales, el agua se vuelve turbia o nublado. Este sedimento se acumula en el fondo de ríos, lagos, arroyos, etc., e impacta negativamente en el hábitat acuático.
Desafortunadamente, los hidrocarburos también son un contaminante común de las aguas pluviales. Hay muchos tipos diferentes de hidrocarburos, pero algunos ejemplos son el petróleo, los fluidos de vehículos y la gasolina. Si alguno de estos ejemplos se derrama en el pavimento, la próxima vez que llueva pueden ser transportados con aguas pluviales a las aguas superficiales. Los hidrocarburos son un contaminante peligroso de las aguas pluviales porque son tóxicos para la vida acuática
page8 title
Local Actions Can Have Positive Impacts
page 8
Dispose of Household Hazardous Waste (HHW) properly:
Unused fertilizer, pesticides, and herbicides, fuel, and oil should always be disposed of properly. The Kalamazoo County Household Hazardous Waste Center accepts drop-offs for free from most residents of Kalamazoo County. Click the link to the right for more information.
Leaves should be raked to the edge of the lawn for pick-up in the fall; never rake leaves into the street. Care should also be taken to make sure grass clippings are not in the driveway, sidewalks, or street where they could be washed into stormwater drains. If you use fertilizer on your lawn, only use the recommended amount.
Pick up and dispose of pet waste, do not leave it on the ground.
Make sure only rain goes down stormwater drains:
Call your city, township, or county office to report illicit dumping. You can use the KSWG partner links at the top of the page for contact information.
Explore your connection to local water bodies:
Begin by viewing the Kalamazoo County Parcel Viewer. Click the link to the right and find out what's in your backyard.
page9 title
Las acciones locales pueden tener impactos positivos
page9
Deshágase adecuadamente de los residuos domésticos peligrosos (HHW):
Los fertilizantes, pesticidas y herbicidas, el combustible y el aceite siempre deben ser desechados adecuadamente. El Centro de Residuos Domésticos Peligrosos del Condado de Kalamazoo acepta entregas gratuitas de la mayoría de los residentes del Condado de Kalamazoo. Haga clic en el enlace de la derecha para obtener más información.
Las hojas deben rastrillarse hasta el borde del césped para recogerlas en el otoño; Nunca rastrille hojas en la calle. También se debe tener cuidado para asegurarse de que los recortes de pasto no estén en el camino de entrada, las aceras o la calle donde podrían ser arrastrados a los desagües de aguas pluviales. Si usa fertilizante en su césped, solo use la cantidad recomendada.
Recoger después de su mascota:
Recoja y deseche los desechos de mascotas, no los deje en el suelo.
Asegúrese de que solo la lluvia baje por los desagües de aguas pluviales:
Llame a la oficina de su ciudad, municipio o condado para reportar vertidos ilícitos. Puede utilizar los enlaces de socios de KSWG en la parte superior de la página para obtener información de contacto.
Explore su conexión con las masas de agua locales:
Comience por ver el Visor de parcelas del Condado de Kalamazoo. Haga clic en el enlace de la derecha y averigüe qué tenemos alrededor.
page10
Everyone impacts the water around them, no matter their role in the community.
Click the buttons below to learn ways to positively impact the health of our Great Lakes:

Todos impactan el agua a su alrededor, sin importar su papel en la comunidad. Haga clic en los botones a continuación para aprender formas de impactar positivamente la salud de nuestros Grandes Lagos:
Non-Profit Supporters / Partidarios sin ánimo de lucro:
page11
This month's stormwater topic is brought to you by KSWG partner:


El tema de las aguas pluviales de este mes es presentado por el socio de KSWG: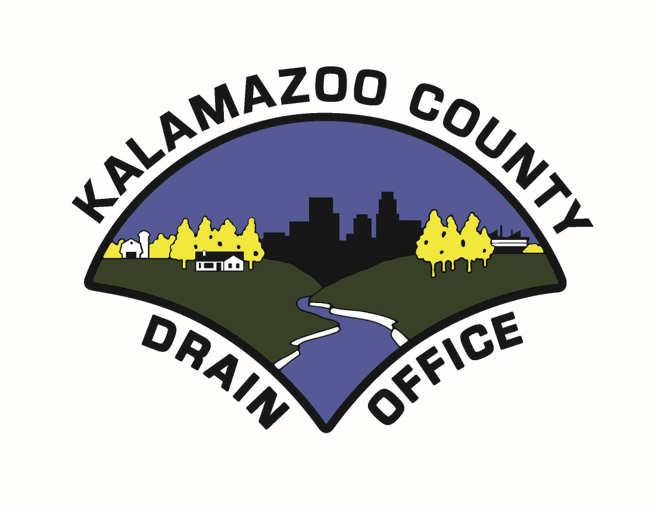 Our mission is to provide for the health, safety and welfare of Kalamazoo County citizens by protecting, maintaining, and promoting long term sustainability of our water resources through various tactics of stormwater management, flood control, soil erosion control, and educational programs.

Oficina de Drenaje del Condado de Kalamazoo
Nuestra misión es proporcionar la salud, la seguridad y el bienestar de los ciudadanos del Condado de Kalamazoo protegiendo, manteniendo y promoviendo la sostenibilidad a largo plazo de nuestros recursos hídricos a través de diversas tácticas de gestión de aguas pluviales, control de inundaciones, control de la erosión del suelo y programas educativos.

Topic 2: Inform and educate the public about the connection of the MS4 to area waterbodies and the potential impacts discharges could have on surface waters of the state.

Tema 2: Informar y educar al público sobre la conexión de la MS4 con las masas de agua del área y los posibles impactos que las descargas podrían tener en las aguas superficiales del estado.
page12
This project has been funded wholly or in part by a grant through the Watershed Council Support Program by the Michigan Department of Environment, Great Lakes, and Energy's Nonpoint Source Program to Kalamazoo Stormwater Working Group for the Multilingual Outreach and Education project. The contents of the document do not necessarily reflect the views and policies of the Department of Environment, Great Lakes, and Energy, nor does the mention of trade names or commercial products constitute endorsement or recommendation for use.





Este proyecto ha sido financiado en su totalidad o en parte por una subvención a través del Programa de Apoyo del Consejo de Cuencas Hidrográficas del Departamento de Medio Ambiente, Grandes Lagos y Energía de Michigan, Programa de Fuentes No Puntuales para el Grupo de Trabajo de Aguas Pluviales de Kalamazoo para el proyecto de Educación y Alcance Multilingüe. El contenido del documento no refleja necesariamente los puntos de vista y las políticas del Departamento de Medio Ambiente, Grandes Lagos y Energía, ni la mención de nombres comerciales o productos comerciales constituye respaldo o recomendación para su uso.