Don't let the hose run while washing your car. Use a bucket and a hose with a shut-off nozzle. Doing this could save 150 gallons of water!

-Henry the Water Drop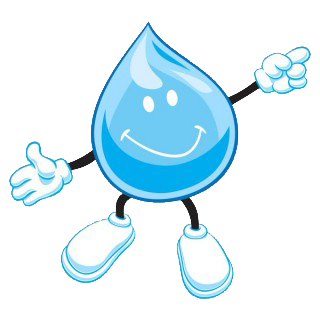 Groundwater/Wellhead Protection Regulations
Regulations - Groundwater/Wellhead Protection
City of Kalamazoo Wellhead Protection Zoning Overlay
On May 21, 2007, a new Wellhead Protection Zoning Overlay (PDF) and Wellhead Ordinance (PDF) was formally adopted by the City Commission for the city's Wellhead Protection Areas, as defined by the 1-Year and 10-Year Time-of-Travel Capture Zones. A Wellhead Protection Area (WHPA) is the surface or subsurface areas supplying water to wells or wellfields through which contaminants are reasonably likely to move toward and reach such wellfields. A Time-of-Travel Capture Zone is the area indicating the travel time for water to flow through an aquifer and reach a well or wellfield. The City uses the 1-Year Time-of-Travel Zone and the 10-Year Time-of-Travel Zone in the subject zoning overlay.

The primary objectives of the Zoning Overlay are to:
Prevent the establishment or creation of non-compatible land uses within the WHPAs that have a higher risk of contaminating groundwater resources used for drinking water and/or would prevent/limit the City's ability to obtain necessary MDEQ well permits to replace or add wells.
Protect drinking water supplies from spills, leaks, and other releases into the groundwater caused by improper storage, handling, use, production, or discharge of Regulated Substances by the use of Performance Standards/Best Management Practices appropriate for higher groundwater risk land uses.
Prevent or minimize public and private losses due to contamination of the public water supply by avoiding expenditure of public funds for costly pollution remediation projects and/or replacement of Public water Supply System assets.
Minimize interruptions to businesses by only regulating specific land use activities within specific designated wellhead protection capture zones, as based upon determined potential risk to the Public Water Supply System.
Performance Standards for Groundwater Protection within Wellhead Protection Capture Zones and Stormwater Quality Management
On May 21, 2007, the City Commission formally adopted an Ordinance (PDF) for Performance Standards (PDF) intended to be used in combination with the Performance Standards Map (PDF), Minimum Well Isolation Distances (PDF), Spill Plan Template (PDF), Spill Containment Figure 3 (PDF), and Spill Containment Figure 4 (PDF) and the City's site plan review process to help safeguard the drinking water sources and protect surface water quality from higher-risk land use activities. The Performance Standards provide reasonable protective measures/best management practices (BMPs) for the prevention or minimization of releases of Regulated Substances that could adversely impact water quality. The Performance Standards include the following: a groundwater contamination risk assessment based on allowed uses within the City's zoning districts and specific higher-risk land uses relative to groundwater quality; general and land use specific site plan review standards; stormwater quality management criteria; criteria for non-conforming land uses; and references to relevant environmental regulations.

Existing non-conforming uses pursuant to the Wellhead Protection Zoning Overlay would be required to incorporate appropriate performance standards and/or prepare a Spill Contingency Plan (SCP) within two years of the formal adoption of the Wellhead Protection Zoning Overlay by the City Commission, or within one year of the City notifying the site of its non-conforming status, whichever is sooner. Like the Wellhead Protection Zoning Overlay, the Performance Standards minimize interruptions and impact to businesses by only addressing specific higher-risk land use activities within specifically designated capture zones (as based upon risk potential), and potential impacts of stormwater runoff.
Regulated Substance (Chemical) Inventory
The City's Department of Public Services and Department of Public Safety collaborate in the collection of chemical storage information for the purposes of the Wellhead Protection Program, Stormwater Management Program, and the Fire Fighters Right-to-Know Program. All businesses are required to complete Part 1 Kalamazoo Department of Public Safety Right-to-Know Questionnaire to comply with the Michigan Fire Prevention Code, Act No. 207, P.A. of 1941 as amended. If a business is located within a Wellhead Protection Area, they are also required to complete Part 2 Drinking Water Protection Questionnaire to comply with the City of Kalamazoo Ordinance No. 1825 (Wellhead Protection Zoning Overlay) and Ordinance No. 1826 (these Performance Standards). These forms are provided in the Site Plan Application Packet.

These forms can also be found, completed, and submitted via this Chemical Inventory and Storage interactive PDF form (PDF). Please send to this email address once complete. If preferred, you can print out the forms and complete manually and return via US mail to:

Environmental Services Division
Department of Public Services
ATTN: Environmental Programs Manager
1415 N. Harrison Street
Kalamazoo, MI 49007

It is recommended that a business keep an inventory that identifies all regulated substances stored at the site in containers exceeding either 10 pounds for liquids or 100 pounds for solids. For each regulated substance, the inventory should identify the type of storage container, storage location(s), and typical and maximum storage quantities in each storage location. The site should maintain a file of current Material Safety Data Sheets (MSDS) that includes the hazardous components and percentage by weight of each regulated substance on the inventory. This MSDS file should be readily accessible in the event of an emergency. Section 3.0 of the SCP template (Attachment 2 of the Performance Standards) provides an example table that can be used for a Regulated Substance Inventory.