Everything is Connected
Household Hazardous Waste
LOCAL ACTIONS HAVE GREAT IMPACTS!
What is it? Waste from a household is hazardous if it has
at least one of four characteristics:
1.TOXIC
2.IGNITABLE
3.CORROSIVE
4.REACTIVE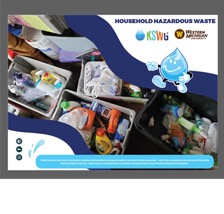 How to Dispose of Household Hazardous Waste?
Find a location for disposal near you!
HHW Disposal is FREE for ALL Kalamazoo County Residents except in Climax Township. Drop off HHW at 1301 Lamont Ave, Kalamazoo, MI 49048 during open hours. If you live outside of the county or are in a township that does not participate then you can still use the program, but there are service fees so call 269-383-8742 to find out more.

KalCounty HHW

Other Local Disposal Options? Select a KSWG partner near you by clicking the links in the left or below to learn more about your local HHW drop off locations, materials for disposal, and events in your neighborhood.
Other participating municipalities with free service to residents include Berrien County; Almena, Antwerp and Paw Paw Townships in Van Buren County.
Travel trailer sanitary waste can be taken to a variety of different RV dumping stations. It is free for registered guests to dump, and usually a fee for unregistered guests.

Kalamazoo County Fairgrounds
Fort Custer State Recreation Area
Cranberry Lake Campground
Klines Resort campground
Giles Campground on Swan Lake

Clean Earth Environmental - they have their own wastewater treatment system. $50 flat rate to bring any size trailer/ RV and dump the tank.
The Kalamazoo Stormwater Working Group (KSWG) is a collaborative effort of outreach and education for our interconnected Municipal Separate Storm Sewer Systems (or MS4s) in the Kalamazoo County area.

Rain falls and snow melts across hard and impervious surfaces that do not allow water to soak into the ground. The water flows to storm sewers or catch basins which direct it to a natural surface water body such as a wetland, river, pond or lake. Stormwater runoff carries salts, grass clippings, sediment, fertilizer, oils, pet waste, and other material left on driveways and sidewalks into the catch basins, and unfortunately, they eventually drain to our natural water bodies.

KSWG partners work together to protect against harmful discharges to the Kalamazoo River and its tributaries.

Topic 7. Identify and promote availability, location, and requirements for collection or disposal of HHW, travel trailer sanitary waste, chemicals and vehicle fluids.